Our team at Riverwind is all about people, and we enjoy giving back to our community. That's why we are a leader in community outreach, and we give our employees many opportunities to serve their community.
Earlier this spring, many of our employees joined Meals on Wheels of Norman to help deliver warm meals to those who can't easily obtain a warm meal. Check out our blog article, where we follow two of the volunteers on their trip to deliver a warm meal to a smiling lady named Rose. Our team had an incredible time with Meals on Wheels, and we encourage you all to support your local Meals on Wheels program.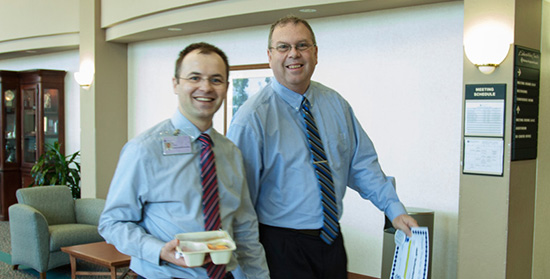 The Cavett Kids Foundation is an organization full of smiles. The Cavett Kids Camp Champ Challenge is an annual fundraiser here at Riverwind, that supports one of the main initiatives of Cavett Kids Foundation, to ensure that chronically and seriously ill children have the opportunity to have some good old-fashioned fun outdoors.
We had an amazing time at our annual fundraiser last year. Check out some of the amazing photos and read about the experience in this story. Join us this Saturday at 6 p.m. to see all of the fun in person.
We are proud to give to the American Heart Association and to be a part of their annual Heart Walk. The American Heart Association has a mission of conquering heart disease, stroke and other cardiovascular diseases. Through their annual Heart Walk, teams raise money as donors sponsor the walk. The Chickasaw Nation is proud to have surpassed our fundraising goal this year, with over $253,000 raised for the American Heart Association.
In the area of entertaining our community, we have made a giant leap this summer with our food truck and music festival series, Beats & Bites. A family-friendly festival, Beats & Bites will feature the metro's best food trucks, vendors and entertainment all summer long. We had an amazing first night this April, and we are looking forward to partying with you at our next Beats & Bites event. If you got to attend our first event, send us your photos. We'd love to see how much fun you had!
We are just getting started with our community activities this year. Be sure to follow us on Facebook and Twitter to stay up-to-date on all of our events and community activities!