18,203 companions, all donning an identical blue shirt, clap in cadence. The screech of an electric guitar riff fills the air as a grumble rises from the depths.
aaaaAAAAaaaAAAaaah.
Two rhythmic thuds are accompanied by an audible uprising of the crowd.
THUNDER.
(aaaaaAAAAaaaAAAaaah)
THUNDER.
(aaaaaAAAAaaaAAAaaah)
THUNDER.
(aaaaaAAAAaaaAAAaaah)
THUNDER!
Suddenly, as if on cue, all 18,203 erupt in hysterics as five take the floor —five that carry the hopes of a city, five who, along with their teammates, have fought all season long through struggle and success; fray and feat.
For 48 minutes, all eyes are fixed on the court as these men run, jump, claw and fight. Clad in orange and blue, these warriors of the hardwood ARE the city and this city IS basketball.
Here at Riverwind, we are so proud to have the opportunity to partner with this city's team, the Oklahoma City Thunder. We bleed orange and blue, so you can bet that when stakes get higher in the playoffs, we'll be ready to cheer them on.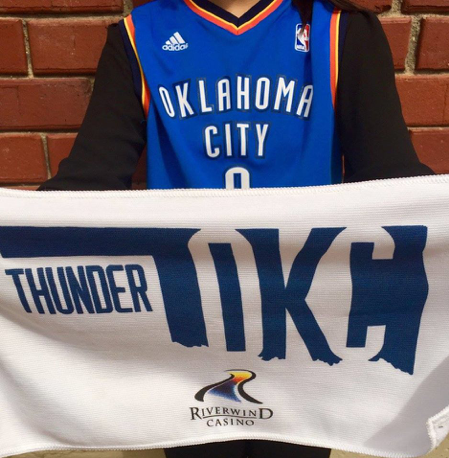 If you're lucky enough to catch a Thunder game live at Chesapeake Energy Arena, we want to hear you make some noise! For the rest of us, you'll be able to catch the action for all home and away playoff games on any of our TVs throughout our facility.
Before the game, plan to grab some delicious food from Chips 'N Ales or any of our Seasons Food Court options. Timeouts and halftime are perfect for discovering a new favorite e-game, too. When the Thunder prevail victorious, celebrate at one of our blackjack or poker tables!
Whatever your style, we hope you'll be cheering on the good guys with us as we THUNDER UP!