It's everyone's favorite time in Oklahoma City. Ladies and gentlemen, Thunder playoffs are here.
The fans are loud. Orange and blue has become the official wardrobe of choice. Businesses throughout the city hang banners, paint windows and come together to support our favorite NBA team (we're not biased or anything).
When the Thunder first came to Oklahoma City in 2008, we had high hopes for what the franchise could achieve. In 2010, the city had the pleasure of experiencing our first NBA playoffs and we've only missed one playoff season since.
At the beginning of this year, we gave you five reasons why we love the Thunder. From Rumble's visits at Beats & Bites to the Thunder Girl tryouts in the Showplace Theatre each summer, we are orange and blue through and through.
Thunder fans, it's time to get loud. The Thunder face the Houston Rockets in the first round of the playoffs and, as an official sponsor of the team, you know we'll be rooting for our guys right here at Riverwind Casino!
Early in the Thunder's playoff history, our city became known for providing special playoff t-shirts to each and every person in the Chesapeake Energy Arena. Keep an eye out for one of the playoff t-shirts sponsored by yours truly. If you get a Riverwind shirt, be sure to snap a picture of it and tag us on your social media of choice (find us on Twitter, Instagram and Facebook)!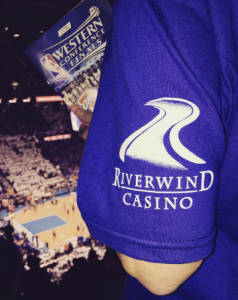 We hope you're ready to cheer on the team as we face the NBA playoffs. Keep an eye out for the games on TVs throughout the casino floor or grab a seat at one of our dining spots to watch the game and grab a bite and a drink.
All together now…O-K-C! O-K-C!