The weather may be cooling down but things are heating up on the court. It's that wonderful time again – the Oklahoma City Thunder is back and we are looking forward to cheering them on all season.
Since 2008, Riverwind Casino has partnered with the Thunder. As we enter the Thunder's tenth season, we've been reflecting on all of the great things that have been accomplished throughout our partnership.
One of the many things that bring Riverwind and the Thunder together is the importance of community service. The Thunder franchise and players have been instrumental in inspiring people to give back through their community service programs and here at Riverwind, we value partnering with organizations that have a positive impact on the community. Our partnership with the Thunder is about giving back to Oklahoma and striving to create the best NBA experience for the fans.
In 2009, Riverwind hosted the first ever Thunder Draft Party and our relationship with the organization has continued to grow. Since 2011, we have been Presenting Partner of the Thunder Girls. We have hosted the finals of the Thunder Girl auditions each summer and we have many calendar signing events at the casino, so make sure to keep an eye out for our next event.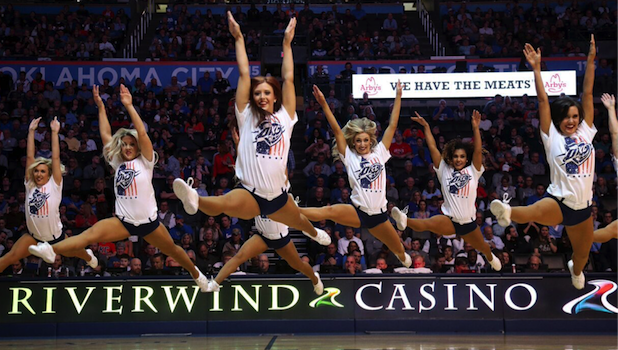 If you know us, you know we love giveaways. Next time you're at a home game, keep an eye out for the giveaways because you just might see our name. A few of our past arena-wide giveaways have included a deck of playing cards, water bottles, lunch bags, keychains and more. If you receive one of these awesome giveaways, make sure to snap a picture of it and tag us on your social media (find us on Twitter, Instagram and Facebook)!
Throughout the years, you may have also seen the Riverwind logo on several Playoff T-shirts. Being a part of this arena-wide giveaway has been a great opportunity for us and we love seeing Thunder fans supporting their team at the games and in the community.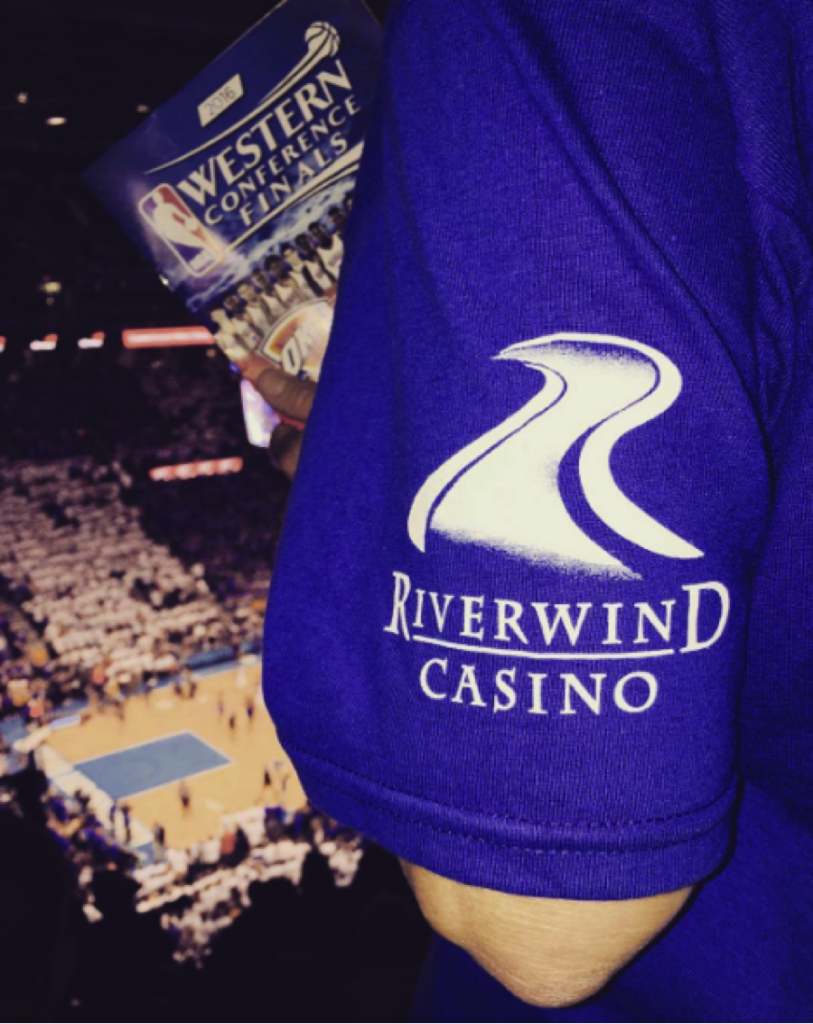 Earlier this year we shared five reasons why we loved the thunder, and all those things still ring true. The Thunder organization has done a phenomenal job bringing Oklahomans together, and we are grateful that we can be a part of their involvement and commitment to the community.
Now it's time to Thunder Up!