'Tis the season for taking action, expressing gratitude and paying it forward. The team here at Riverwind Casino is excited to celebrate the season of giving with our community partners, and we're already off to a great start.
Earlier this fall, we pulled together to collect more than 490 pounds of food items for the Regional Food Bank of Oklahoma during our annual food drive. Our employees went above and beyond to exceed our donation goal. By working together, we collected enough food to help provide 411 meals to Oklahomans.
One in six Oklahomans do not have consistent access to food, and the Regional Food Bank relies on volunteers and donations to help those who struggle with hunger year-round. In addition to our annual food drive, 32 Riverwind employees have volunteered a total of 109 hours this year at the Regional Food Bank. You can help the Regional Food Bank of Oklahoma by "Fighting Hunger and Feeding Hope" at www.regionalfoodbank.org.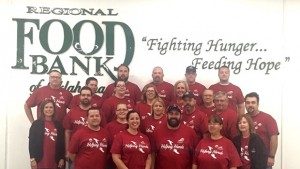 We're also proud to partner with the Cavett Kids Foundation throughout the year, and we were overjoyed to welcome them back to the Showplace Theatre for their annual fundraiser, Cavett Kids Got Talent, earlier this month.
Cavett Kids Got Talent isn't your average talent show. The event featured a silent auction, dinner and the most awesome kids ever showing off their skills in front of a packed crowd. Kids danced, performed magic tricks, told jokes and even showed off a little kung fu.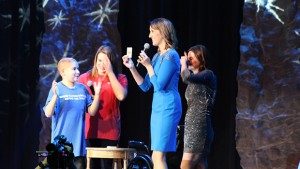 The Cavett Kids Foundation gives hope and encouragement to kids battling life-threatening illnesses. Funds raised through Cavett Kids Got Talent show are still being tallied, but the silent auction alone raised $22,975. Join in the fun and support these amazing kids at www.cavettkids.org.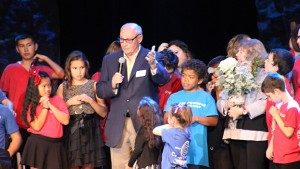 Organizations like the Cavett Kids Foundation and the Regional Food Bank of Oklahoma sure know how to make us feel all warm and fuzzy inside. They inspire us with their hard work and help remind us of what really matters. As we count the things we're thankful for this season, our community partners are sure to be at the top of the list.