In celebration of our 10th birthday, we thought we would take a look back at what the world was like when we opened our doors in 2006.
Ready for a trip down memory lane? Here we go:
The average cost of a gallon of gas in the United States: $2.58
Oklahoma City University was the NAIA Division I Men's Basketball runner-up
Daniel Powter's "Bad Day" was the biggest song of the year. Bet you can't get that one out of your head now…
Barack Obama and Slipknot both won Grammys
Jack Dorsey, Twitter co-founder, sent the first-ever Tweet. (psst…we've sent lots of Tweets since then…follow us!)
The world said goodbye to the "Crocodile Hunter," Steve Irwin, after an encounter with a stingray while filming a documentary
Taylor Hicks was announced the winner of American Idol's fifth season
Tiger Woods earns more than $10 million over eight PGA Tour wins, including two major championship titles
The St. Louis Cardinals win their 10th World Series in franchise history
Jennifer Berry from Davenport, OK was crowned Miss America
Google purchased YouTube for $1.65 billion
Pirates of the Caribbean: Dead Man's Chest was the biggest movie of the year, grossing more than $400 million at the box office
Skateboarding and snowboarding sensation, Shaun White barreled into the Winter Olympics for the first time, making a name for himself
Microsoft released the Zune and iPods looked like this: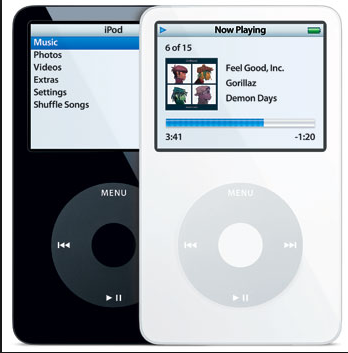 And the iPhone…
…didn't even exist yet.
Yeah, we're happy it's 2016, too.